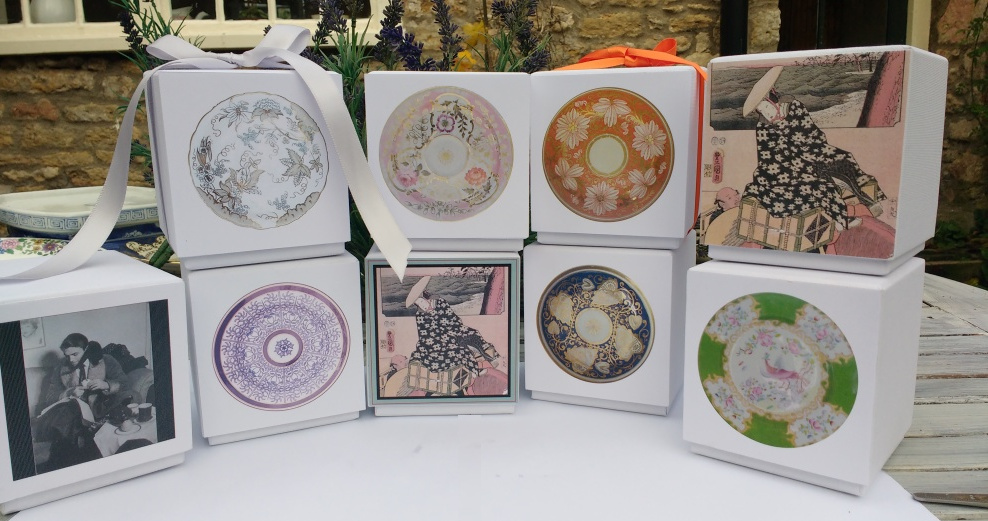 As well as china we have launched a candle range called 'Didi at Mells', which are created and hand dipped by an experienced artisan in candle making with a background in perfumery. They are filled into a 30cl clear glass holder – see Contact page. A bespoke service is available, offering different sizes, holders, colours and so forth.
The first range are for winter so warm and multi-layered scents for cold wintry days – Tobacco Amber, Log Fire, Sacred Resin.

The pretty boxes have a choice of ten different images which you can choose and any choice of ribbon colour.
The scents are made from ingredients including beeswax, soya, coconut oil, with a view to a balanced approach to sustainability and production without leaning heavily on one product only and depleting supply.
Postage and packing
The postage cost for one candle sent in a secure Post Office packing box is £5.00. For multiples please contact us for a price either by email didi@chinahousemells.co.uk or telephone 01373 812804. We can deliver free of charge within a 3 mile radius. Happy to discuss any requirements outside of this.
Costs and payment
These candles cost £20.00 boxed with a ribbon. They can also be sent without a ribbon. Please specify. You can also request a particular box design by looking on the website and we will try to fulfil your request.
To pay online using a bank transfer please contact us by email or phone and we can send you the bank details.
List of scents:
Tobacco Amber Sacred Resin
Log Fires
Black Tea
Somerset Bluebells
Charade
Musty Rose
Chinoiserie
Autumn Berry
Iris Powder Room
Orangerie
Winter Fruits
Our Spring collection – floral scents with green notes that are lively and fresh:
Lavender & sageLilac Butterfly
Peony
Japanese Cherry Blossom
Fleur d'Orangerie
Somerset Showers
Forest Dusk